F.A.Q
In order to access our Members' Area, you need to sign up for our site. When signing up, please be sure to enter your correct email address, as we need it to send you the confirmation of your username and password, as well as the special access code. After you have completed the registration, you may log in to the Members' Area and enjoy it!

In some cases you will need to confirm that you are exactly the same person who paid for the access to the Members' Area. This procedure is absolutely simple and will take you no more than 2 minutes.
F.A.Q. VERIFICATION PROCEDURE
In which cases do I need to pass the verification procedure?
What is Special Code?
I have not received a Special Code, although the site told me it had been sent to my email address. What do I do?

ANONYMOUS PROXIES
On our Members' Area please do not use anonymous proxies, or any other special software that hides your real IP address, otherwise your account will be blocked. If you crucially need to use anonymous IP address, please be ready to undergo the following procedure:
1) Log in to the Members' Area from the anonymous IP address, and get a message about the blockage of your account.
2) Write to our support team support@amourangels.com that you want to use this anonymous IP address, and do not forget to indicate your username and IP address. Our support employees will then add this IP address to the allowed list, and your account will be unblocked.
Why is my account blocked?

I cannot watch your videos. What's the problem?
The downloads on your site are extremely slow. What's the problem?
I want to cancel my membership. How do I proceed?


F.A.Q. VERIFICATION PROCEDURE:
1) Our system will offer you to enter YOUR email address, which you originally indicated during the registration of your account. Here is an example: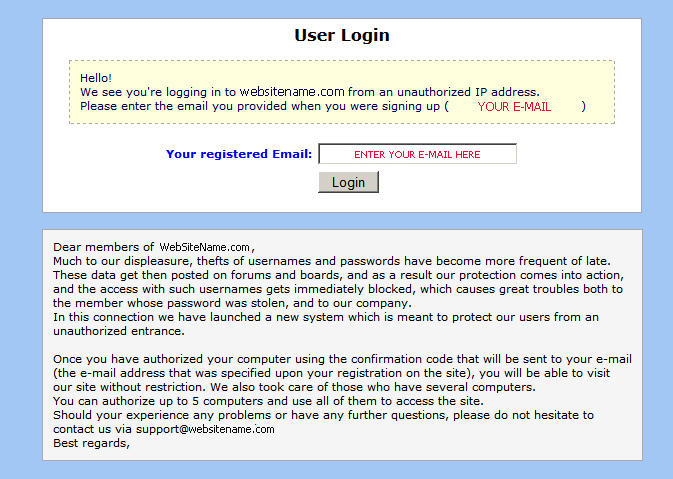 Please enter your email address and tap or click "Login".

A message with a special access code will be automatically sent to YOUR email address it will look like:


In this message you will also find a link for the password change. Please use it immediately if you suspect that your password has been stolen.

2) On the next page you will need to enter the access code from the message into the "Special Code" box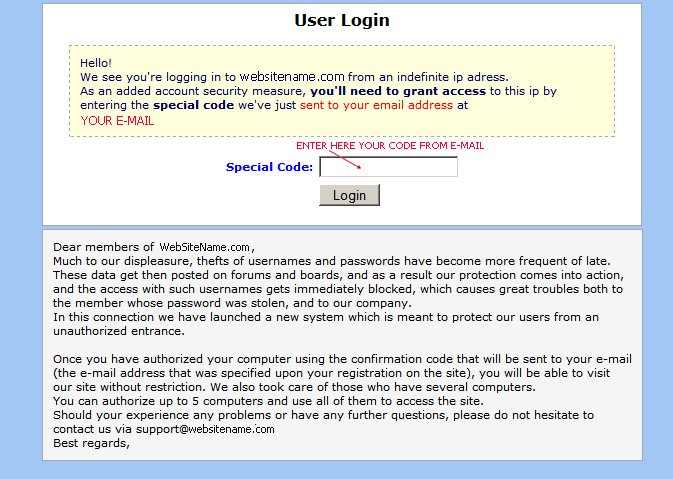 And tap or click "Login". After that you will get to the Members' Area.
[Top]



In which cases do I need to pass the verification procedure?
In case if you are entering the site from another computer or mobile device, which you have never used to enter our site before. Or in case if you are entering from another country, from where you have not entered the site before.
[Top]



What is Special Code?
Special Code is a verification code that you need to enter on the verification page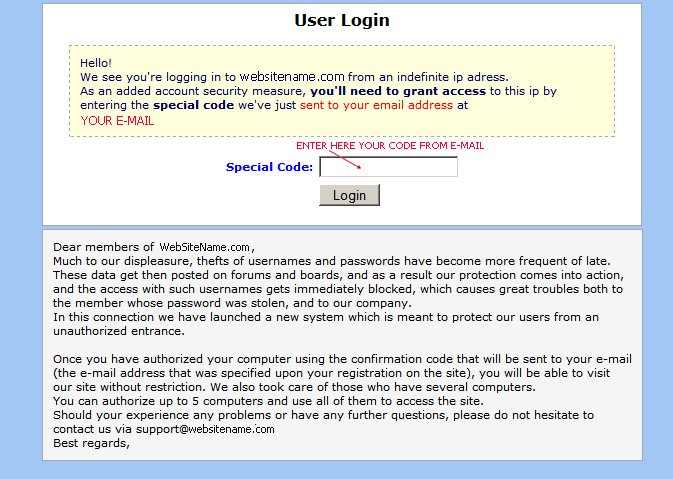 It is automatically sent to your email address by our system.
[Top]



I have not received a Special Code, although the site told me it had been sent to my email address. What do I do?
You could have failed to receive a Special Code for the following reasons:
1) Our message with the code might have got into your spam box (junk folder). Please check it. In order to avoid such problems, we recommend you to add our email address support@amourangels.com to the list of allowed email addresses in the antispam settings of your mailbox.
2) You might have entered the wrong email address during the registration. If you have doubts regarding this, please send us a request to support@amourangels.com Please indicate your correct email address, and we will update it in our records.
[Top]



Why is my account blocked?
Your account may have been blocked for one of the following reasons:
1) You were using anonymous proxy to enter the Members' Area
2) Your username and password were used by other people.
3) You violated DMCA
4) You have exceeded the number of computers or other devices used to enter the Members' Area (The allowed number is no more than 5 computers or any other devices)
[Top]



I cannot watch your videos. What's the problem?
If you are a PC and Internet Explorer user, there might be a compatibility problem between your version of Internet Explorer and our site. Please read http://windows.microsoft.com/en-us/internet-explorer/use-compatibility-view#ie=ie-11 for more information. You may need to add the URL of our site to the compatibility list. In order to do this, please follow these steps:
1. Open the desktop, and then tap or click the Internet Explorer icon on the taskbar.
2. Tap or click the Tools button Tools, and then tap or click Compatibility View settings.
3. Under Add this website, enter the URL of the site you want to add to the list, and then tap or click Add.
(enter the URL of the site = enter www.amourangels.com )
[Top]



The downloads on your site are extremely slow. What's the problem?
This problem may be related to the quality of the channel between your PC or other device and our server. In order to check it, you may use a special software (for instance, http://www.d3tr.de/download.html )
[Top]



I want to cancel my membership. How do I proceed?
Please use the following link to cancel your membership:
https://secure.verotel.com/en/cancellookup
Or, if you experience any difficulties using the above link, please contact the billing support by email (livesupport@verotel.com) or telephone (you can find contacts here (https://www.verotel.com/en/contactus.html), under Enduser support) When you cancel your membership you will still have access to our site till the end of your subscription period.
[Top]